---
Internal for best instrument appearance
Super-Compact format: 0.9"h. X 1.25"w. X 1.5"d.
Retro-fits easily in all standard solid-body guitars
Excellent tracking with all Guitar to MIDI converters, including :
Roland GR-50, GR-09, GR-1, GI-10, GR-30 & GR-33
Yamaha G50 Axon NG-66, NGC-77 and AX-100
Excellent performance with the Roland VG-8, VG-88, VG-A7 and VG-99
Built-in 13 pin DIN output jack & mounting hardware
Built-in Active PIEZO MIX for blending with MAG sound
Built-in Magnetic Pickup (signal) buffer
Power: Phantom via 13-pin jack or onboard battery
Versatile functional design provides Ribbon Cable connections for onboard control of MAG/PIEZO Blend, Guitar Volume, Guitar Tone, Synth Volume, Sw1/Sw2 and Synth/Mix/Guitar 3-pos. selector switch
User-definable onboard controls : preamp can function without connecting battery, controls or switches
Studio Quality performance 90 dB S/N typical
Summary of Audio Functions
The 6 pickup signals from the RMC sensor saddles are preamplified & equalized separately. The buffered string signals are fed to pins 1 through 6 of the built-in DIN-13 connector. These buffered string signals are also mixed together and further equalized to produce the Saddles Mix signal.
The Mag pickups are buffered using the internal Mag Buffer circuit. The buffered magnetics signal can be combined with the Saddles Mix signal using a BLEND control (pot).
This combined signal is then passed through TONE and VOLUME controls to produce a Mono Guitar output signal which is fed to pin 7 of the DIN-13 connector and also to a 1/4" PHONE JACK. The Phone Jack turns-on battery power when a regular (mono) guitar cord is inserted.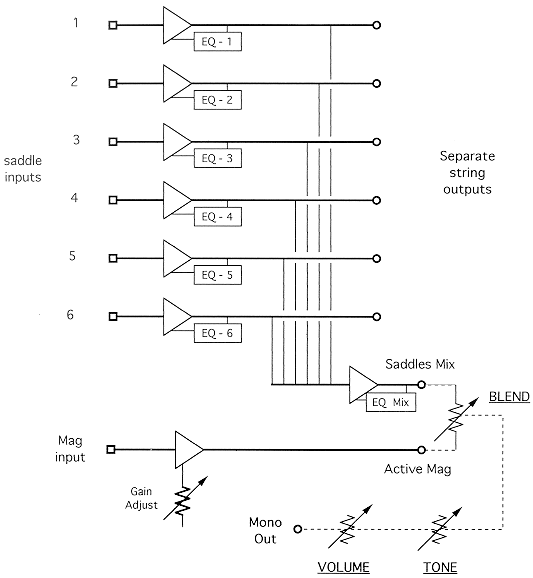 - Poly-Drive I miniature onboard polyphonic preamp
Complete with all necessary hardware including pots, switches, connectors and jackplates as well as easy-to-follow wiring instructions.